Most Canadians will admit that at some point in their lives, they've considered moving to British Columbia. But the natural line of thinking is to imagine life in Vancouver or Victoria, and to forget about the many other towns, cities, and communities across this great province that you could see yourself calling home.
Take Kamloops, for example. While a smaller-sized city of under 100,000 residents, it's got a number of incredible perks that fly under the radar and generally don't attract major numbers of new residents. But compared to Vancouver, Kamloops is cleaner, safer, and more affordable to rent. According to Numbeo, Vancouver's Pollution Index is at 23.09 percent, whereas Kamloops enjoys an Index of nearly half that level (at 12.07 percent). Kamloops has a safety scale of 71.09 percent and a Crime Index of only 28.91 percent — that's 11.17 percent lower than Vancouver's rate of reported crime. Significantly, rental prices are over 32 percent lower in Kamloops than they are in Vancouver. So if you're looking to relocate to British Columbia for its clean waters, gorgeous mountaintops, and friendly residents — but you don't want to spend a fortune on rent — Kamloops looks like an ideal city.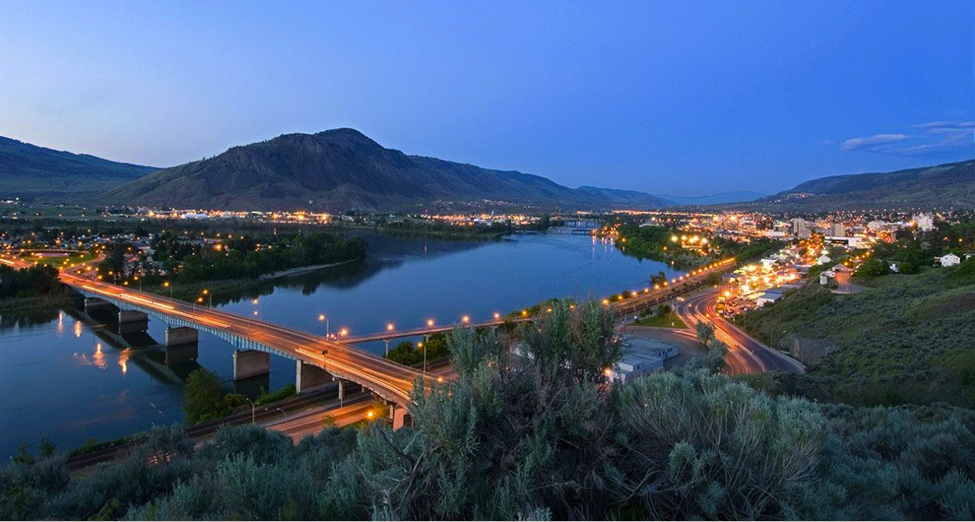 From tribal band area for Native Peoples to fur company trading post, cluster of forts, and eventual city, Kamloops is home to centuries of history involving everything from Cree-Saulteaux and Secwepemc (Shuswap) First Nations settlements, the Yukon gold rush, the Canadian Pacific Railway, and major logging initiatives. The rather unusual name is either derived from the Shuswap word "Tk'əmlúps" (or "meeting of the waters"), or from the French "Camp des loups" (or "camp of wolves"), but either way, Kamloops is indeed a riverside jewel of a city that is still surrounded by majestic forests, volcanic phenomena, and mountainous vistas.
Situated at a meeting of the north and south branches of the Thompson River in the Thompson Valley, Kamloops enjoys mild winters and warm summers — and for some, it's absolutely perfect for any outdoor activity. If your passion is downhill or cross-country skiing, snowboarding, mountain biking, hiking, canoeing, kayaking, or even golfing, then you'll love Kamloops' access to nearby Sun Peaks Resort, Stake Lake cross country ski area, Harper Mountain, Kenna Cartwright and Peterson Creek Parks, and Kamloops Bike Ranch. With over 200 lakes within an hour's drive, 82 municipal parks, and that great arid weather, you've got the perfect location to enjoy your hobby or get in shape!
Art buffs will love the fact that Kamloops has over ten art galleries (including the Kamloops Art Gallery) and several public arts displays (featuring pole carvings, sculptures, and murals). For music and theatre lovers, organizations like the Kamploops Symphony Society, Western Canada Theatre, Project X, and the Kamloops Players will keep you tapping your toes. Those who enjoy the insights of history will love the Kamloops Museum & Archives or the Secwepemc Museum & Heritage Park. And a thriving business district and community of shops and restaurants will keep you entertained when not enjoying these city institutions.
For students, Thompson Rivers University offers a wide range of degrees and designations. Aside from the pulp, plywood, cement, and copper industries, TRU (and its Open Learning Department) is a major local employer. Royal Inland Hospital also employs thousands of residents, and legal opportunities abound in the region. Though a part of British Columbia's interior, living in Kamloops means you're still very much connected: VIA Rail transcontinental trains, CPR and CNR lines, Greyhound buses, and the small Kamloops Airport serviced by West Jet, Air Canada, and Central Mountain Air keep you in touch with other communities and provinces. If you don't own an automobile, the reliable KTS (Kamloops Transit System) can get you from point A to point B while in the city.
Sounds great, doesn't it? Luckily, we've got a number of attractive listings in the West End and in the City Centre, Lower Sahali, over the Overland Bridge on the North Shore along Fortune Drive, and along Valleyview Drive east of the city centre on the south side of the Thompson (north of Juniper Ridge). So if you're still dreaming of transplanting to British Columbia, consider renting an apartment in Kamloops — and remember to use our straightforward directories when you get serious. It could be the best — and most unexpected — decision of your life!