On Thursday December 1, 2011, the Federation of Rental Housing Providers of Ontario (FRPO) held its annual MAC Awards Gala, celebrating businesses and individuals who are leaders in the residential rental housing industry.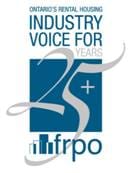 Among winners announced over the course of the night were RentSeeker.ca clients CAPREIT, who took away the award for Property Management Advertisement; Minto, who received the Property Management Website Award (Corporate Branding) as well as the Environmental Award of Excellence; The Tandem Group, who left with the Property Management Website Award for the Sheppard Centre; Medallion Corporation, whom FRPO Recognized for Lobby Renovation of the Year (595 Sherbourne St.); and Briarlane Rental Property Management, who won for their suite renovation (under $5000) at 263 Dixon Rd.
Other awards included the Suite Renovation Award (over $5000), which went to Timbercreek Asset Management for the company's work at 600 Kingston Rd.; the Rental Development Award was presented to Concert Realty Services Ltd. for Sierra at Village Gate West; the Leasing Professional of the Year Award went to Jeff Brown at Pinedale Properties; Realstar Management's Thomas and Arlene O'Donnell were collectively acknowledged as Resident Manager of the Year; Realstar also took home the award for Customer Service Excellence; and the Curb Appeal Award went to Greenrock Property Management (77 Davisville Ave.).
In addition to winning the Outstanding Community Service Award and Property Manager of the Year (Eugene Bussoli), Family-owned and operated Greenwin Inc. was acknowledged with the prestigious Lifetime Achievement Award, honoring founders Harold Green, Albert J. Latner and Al Green.
RentSeeker.ca is proud to count Greenwin Inc. as a client and congratulates them for building a legacy and setting a standard of excellence within the industries of residential and commercial real estate.
We hope you'll join us in celebrating all of the companies acknowledged, including those who received nomination nods. Finally, thank you to FRPO for organizing and hosting this evening. We are proud to be a part of the celebration.
All of us here at RentSeeker.ca thank you for your business. In just two short years, you have shown constant support of our work by exploring our internet listing and marketing services, offering constructive feedback to enhance our site and spreading the word about what we have to offer landlords and renters alike.
We hope to continue exceeding expectations with our products and service!