March is here and Spring is near!
We're well into the New Year and hopefully, you've been following our blog posts about apartment rentals or reading about some of our new ventures in press releases. Maybe you've seen us building up our epic Twitter fan base or getting shout-outs in the Toronto Star, Globe & Mail, Yahoo! News or Canadian Newcomer Magazine. Regardless of how you're finding out more about us, we're just happy to have your attention. While you're here, we're going to take the opportunity to update you on what's been happening here at RentSeeker.ca.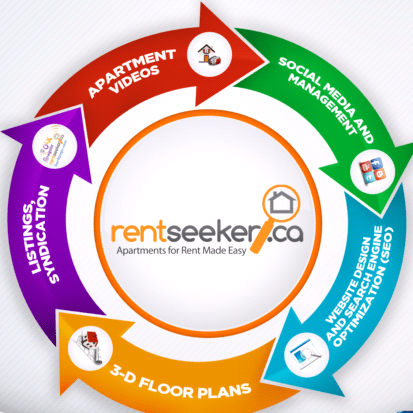 To keep apartment hunters/rentseekers up-to-date, we're upgrading and updating our website on a round-the-clock basis. Recently, our team at RentSeeker.ca did some research by surveying a group of post-grads and came up with a handful of ways to make a design statement out of your apartment rental "digs". And, for those colder days, we've listed several do-it-yourself ways to stay warm—just by insuring your apartment is properly insulated.
And of course on behalf of our wonderful clients, RentSeeker.ca continues to come up with new marketing ideas and features for renters ranging from seniors and students to Canadian newcomers. Because the population of Canada will grow by ten percent between 2006 and 2017, we've been explaining to apartment landlords that nation's combination of a low birth rate and an aging population leaves the newcomer audience a market too large to overlook. And, as for seniors, the baby boomer demographic is the fastest growing group to jump on the computer technology bandwagon.
The RentSeeker.ca Team are also a fond of other online marketing tools like regular press releases, which we use as a way to promote new and existing clients as well as cool new features we've added and continue to add to our menu of marketing services. To kick off the New Year, we announced the launch of an exclusive video hosting/marketing website for our apartment videos to promote rental listings and apartments for rent via video marketing on behalf our clients. Now, in addition to providing landlords with video production services, which includes scripting, professional photography/filming, narration, music and extensive branding and marketing, RentSeeker.ca has developed a space that solely showcases these property videos.
Also, this past December, we were excited to congratulate a number of our clients on their FRPO MAC Award wins: CAPREIT, Minto, Greenwin, Tandem Group, Medallion Corporation, Briarlane, Timbercreek Asset Management, Concert Realty, Realstar Management and Greenrock Property Management.
Finally, thanks to our loyal clients and the industry's growing group of social media enthusiasts, RentSeeker.ca has received some generous kudos itself: We've been featured across the board in publications like Canadian Apartment Magazine, FRPO's FE Magazine, GTAA's Building Blocks, the Toronto Star, Globe & Mail, Yahoo! News, and Canadian Newcomer Magazine, where we've been positioned as a leader in integrating apartment searching with videos and social media marketing.
On our agenda for the remainder of 2012 includes iPad / iPhone apps, new tracking tools, and some other exciting services and features we look forward to sharing with our followers and clients, so stay tuned!
Here's to another great year!
-The RentSeeker.ca Team