If you're not willing to dish out the big bucks for professional movers, you've got to turn to your friends and family members to give you a hand on moving day. Helping a pal lug boxes, bags, and furniture is all part of sharing a great friendship, but as with any social exchange, there are still right ways and wrong ways to go about it.
If you've got a fleet of friends willing to give up their free time to help you settle in to a new place, treat them right, and an otherwise arduous task can become a chance for fun, laughs, and a chance to connect!
First, do some preliminary groundwork well ahead of time to make sure the day runs as smoothly and as confusion-free as possible. Send out a request for help to as many people that you can — the more who show up, the easier the day will be for everyone involved. Send polite reminders, and promise some good food, drinks, and a smooth ride. And promise your services in return!
Before the big day arrives, do a sweep of your personal belongings to eliminate any bulky items that will slow you down. Throw away junk and donate stuff you don't need. Ask your moving friends if they want any of your donated goods and make sure they have 'first dibs' on any particularly cool items.
Be sure to have everything packed up before they arrive — your friends are here to help you carry and sort, not pack! But while you're packing, colour-code and clearly label every box for a designated room. If large items or furniture can't be boxed, attach sticky notes that tell movers where to put things. If you've got the time, draw up a little floor plan of your new place, with each room colour-coded or numbered. Treat it like a special military strike, and no one will slow down due to confusion. Finally, collect blankets, dollies, twine, tape, brooms, rope, and other equipment to have on hand, and make sure you have a first-aid kit nearby in case of cuts or other injuries.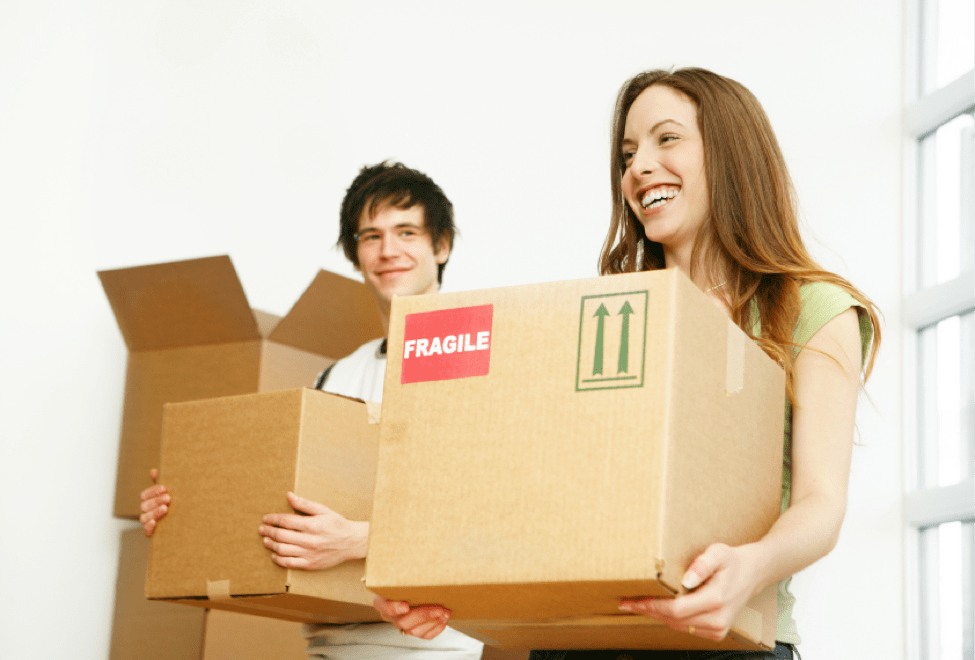 Do some advanced scouting and know that you've got room to park your cars, vans, or trucks; if your friends are also accompanying you to the new destination, provide for their transportation and make sure parking is covered. Give them a map to the new place if they're driving or taking public transport.
Once the show is underway, give every member of your moving party a task based on what they can do, and their interests. Think: after all the lighter boxes have been dealt with, and your stronger friends are lifting the huge furniture pieces, what are the smaller members of your team doing? Give them unboxing, assembling, or tidying duty! Figure out who can help when, and move the really heavy stuff that you absolutely need help with when your friends are actually available. Don't be left stranded!
Most importantly, remember to impress upon your pals that you truly appreciate their help. Offer to do them a favour when they need it; buy delicious food for the move and pay attention to what they want, can eat, and so forth. Keep them hydrated; supply cool drinks on hot days and warm-up beverages for the cold. Make things fun and upbeat with high-energy music or something you all love. And remember to stay positive! Your energy and vibes can make or break the day. Afterward, send out thank you notes (if that's something your friends will appreciate) or show your thanks with a drink sometime down the line.
If you follow this great advice, your friends are sure to have positive memories of the move — and they'll be more likely to help you the next time you need to relocate. We want you to have the happiest move possible — it's why we've organized one of the most complete, helpful, and easy-to-use directories for rental units on the web. So while you're all taking a break with a beer, glass of water, or pop, remember to remind them how you found your apartment in the first place — that you got in touch with our toll-free number, sent us an email, or simply registered for a free recount!
Happy moving, and here's to good friends!